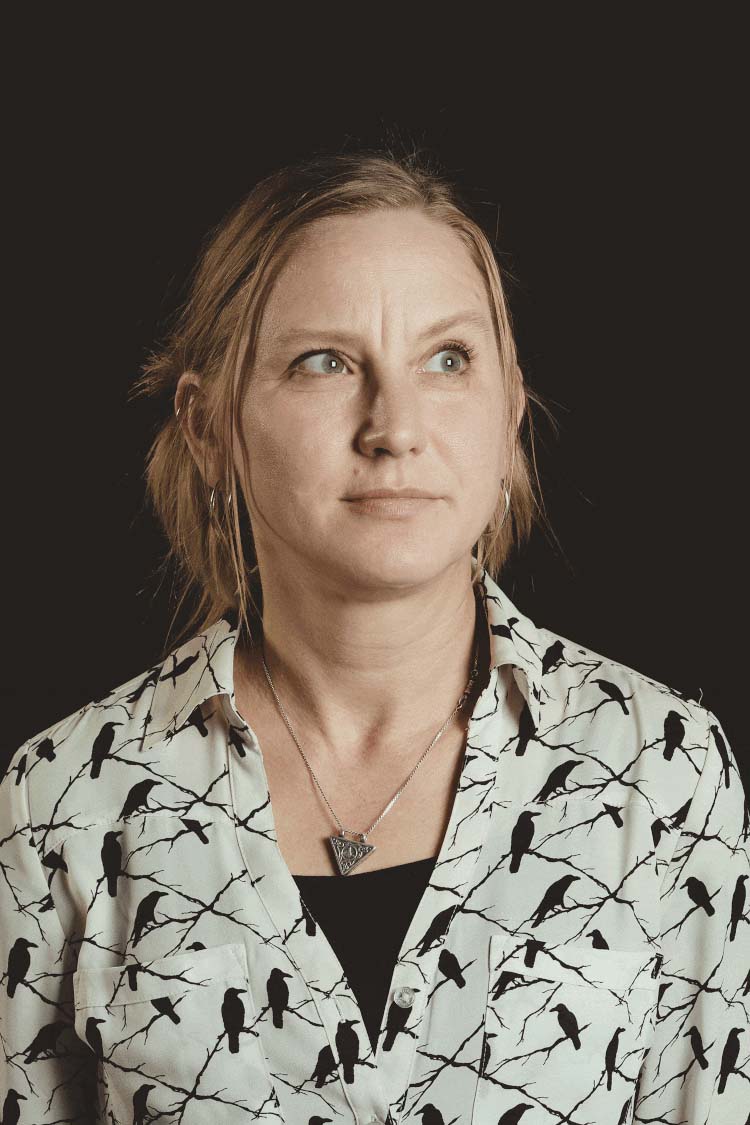 The experts at Art Work Fine Art Services offer the highest standard of fine art logistics services in the Pacific Northwest. We conduct an intensive interview and strategy when composing crating, storage, transportation, and installation solutions for valuable fine art pieces. Our team of knowledgeable experts with a wide range of specialties ensures that regardless of the project, we can create the ideal solution.
Our success is due in large part to the expertise of our Director of Operations, Jessica Bender. Jessica joined Art Work FAS in 2013 as the Collections and Inventory Manager, becoming the Seattle Operations Manager in 2019 and the Director of Operations in 2022. Jessica has decades of experience in the fine art world, having worked as a preparator in some of the most prestigious regional museums in the Pacific Northwest. Her vision for the future of Art Work Fine Art Services includes improvements and initiatives that will bring needed services to the ever-evolving fine art community.
Q & A with Seattle Director of Operations Jessica Bender
Jessica Bender has channeled her passion for fine art into her career in fine art logistics. Her passion shows up every day in the work that she does. Below, Jessica speaks about her journey into the fine art world and shares her contemplations about the work she does.
Q: What Began Your Passion for Fine Artwork?
Jessica: I'm not sure where my love of art came from. It's hard for me to believe that there's not an innate love of the arts in all of us at some level. I was a late bloomer to college, but a work-study job led to a fortunate string of experiences in museums here in the Pacific Northwest, and I eventually chose to study art. I gained my BFA from Western Washington University with a focus in sculpture and installation.
Q: What Did Your Career Look Like Before Joining Art Work FAS?
Jessica: It would be difficult to list all my stops in trying to find a career path in life, but I do not discount the many non-art-related jobs I have held. You'd be surprised how many skills transfer in art logistics from seemingly unrelated jobs. Years of being a line cook, a house cleaner, or time spent as a funeral director have all informed my fine art career.
I started as a museum preparator 23 years ago. I worked in all aspects of exhibition needs as a preparator and fabricator. The fabrication jobs were always my favorite projects to be a part of. I loved being on a hands-on, problem-solving team that helped an artist or institution achieve its vision and get it into the world.
Q: You've Transitioned Through Many Positions While at Art Work. How was Each of Those Positions Different?
Jessica: I started at Art Work FAS in 2013 as an art handler. The progression through positions at Art Work has been an organic one. I have gained new skills through each position. Learning and challenging myself keeps me going.
Q: What Does a Day in Your Life at Art Work FAS Look Like?
Jessica: I'd like to think of a day at Art Work, in my role, as attempting to conduct an orchestra with an ever-changing lineup of musicians and instruments that can achieve an overarching harmony, and on the best day, an all-staff dance party. My favorite aspect of my job is connecting with my colleagues. They are the ones making the music and making things happen. I feel lucky to work with such a talented group.
Q: What Do You Love Most About the Seattle Fine Art Scene?
Jessica: The artists! It's not an easy path to take in our culture. I have the utmost respect for those putting themselves out there unflinchingly, as well as those who support them along the way. If I could say one thing to experts in this industry, be they artists, curators, gallerists, or collectors, I'd say THANK YOU. Keep on and keep at it. The world and the future needs you.
Specialized Knowledge From Our Experts in Fine Art Logistics
For nearly 30 years, Art Work Fine Art Services has served as the trusted logistics partner to some of America's most highly-regarded museums, galleries, collectors, and artists. We specialize in expert and custom solutions for fine art handling, domestic and international shipping, warehousing, and preservation of artwork. 
Our team is made up of passionate experts in many mediums, including design, painting, printmaking, carpentry, photography, and sculpture. Art Work FAS offers services in Portland and Seattle, in addition to California's Bay Area and Silicon Valley, Los Angeles, New York City, and across the Rocky Mountains.  
To request an estimate or find out more about the services Art Work Fine Art Services offers, contact us.