Fine Art Crating & Packaging
Art Work FAS offers a full range of crating and packaging options designed to ensure the protection and security of your valued pieces.
Crating
All of our crates are custom built to precisely fit your objects. Constructed of high-quality plywood, our crates are clearly stenciled with handling and orientation instructions. We use archival materials where necessary, and offer a range of custom options.
From slat-crating a single painting for a domestic move to constructing multi-venue traveling exhibition crates for international travel, we cater to your specific shipping and handling requirements with the preservation of your objects as our top priority.
Source the Highest Quality Plywood
Each crate is built using the highest quality plywood to with stand storage and transportation of the art.
Designed & Built By Expert Art Handlers
Our crates our built right on location by experienced team members, all of which hold a degree in Fine Art.
Assembled with Care
Each crate is assembled to ensure the highest level of safety of the artwork while being transported.
Museum/International Crates
Museum crates are our highest-grade crates, designed for multiple uses over long periods of time—typically for traveling shows or exceptionally valuable pieces.
Our museum crates have all the features of our standard crates: ½" plywood construction, with all panels fully framed with ¾" battens, and all joints glued and stapled or screwed. All museum crates have bolt and plate closure and two coats exterior polyurethane sealant, as well as foam gasket around the lid. Bolt-and-plate closure is the most durable method of opening and closing the crate because it stands up to repeated use. The exterior sealant helps keep out air and moisture, and keeps the crates looking clean and neat over time.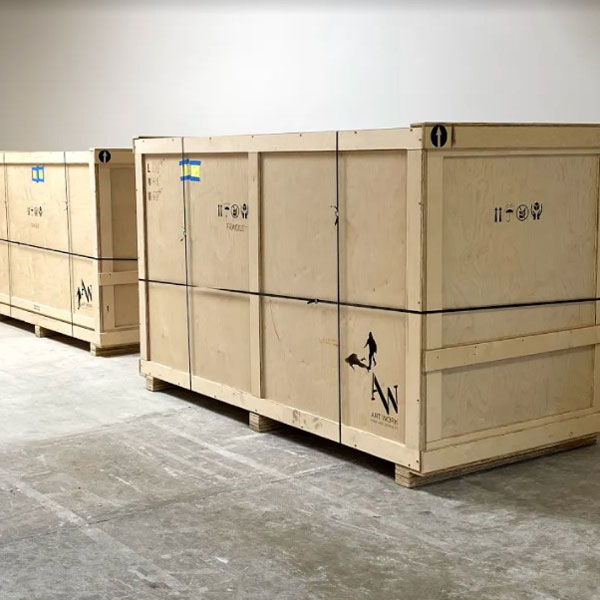 Standard Crates
Standard/Two Way crates are our mid-grade crates, designed for repeated use, or when the size or weight of an object requires an especially sturdy construction method.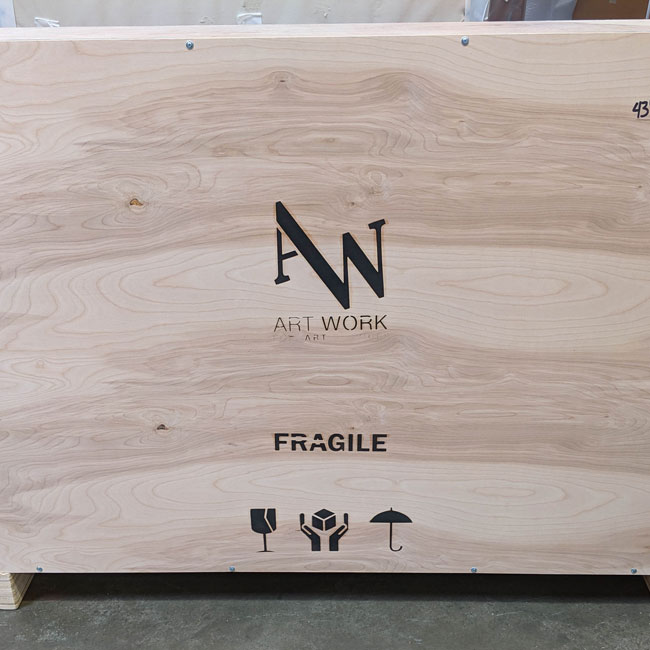 One-Way Crates
Our Basic/One-Way crates are designed to be economical while still being safe for the most delicate artwork, and are good for both land and air travel, domestically and internationally. While they are designed to protect artwork during a single trip, many customers are able to get multiple uses out of these crates.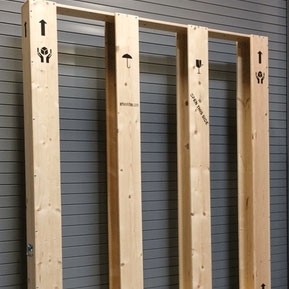 Travel Frames
Appropriate for art shuttle transport and storage, travel frames are an excellent choice when artwork has an especially fragile or delicate surface. They can also be an economical solution for very large artwork, since they're usually less expensive than an enclosed crate. And sometimes, a piece of art will simply be so challenging to transport that it needs a travel frame to be moved safely.
Other Crating Options
"U" Crates, "L" Pallets, Slat Crates and other skeleton-type crates are designed to be economical but provide good access for placement and packing of 3-D objects.
U-crates are a pallet base with two "wings", usually on the short sides. In profile, they look like the letter "U." The pallet and wings are made of different materials based on the size and weight of the object being packed. Usually, 2x2 or 2x4 braces and beams connect the two wings and are used to block in the object.
L-pallets are a U-crate with only one "wing." In profile, they look like the letter "L." We'd use an L-pallet instead of a U-crate when we know we don't need as much packing or protection for an object.
Slat Crates are a pallet base, four removable open lattice sides and an open lattice top. Usually Slat Crate sides are made of 1x4, 1x6 or 1x8s, but for particularly heavy objects we will construct the crate sides from 2x4, 2x6 or 2x8s.
Learn More About Custom Crating
Packing
From a simple soft-wrapping for shuttle transport to a full crating and packing for ocean containers, we understand the unique requirements for handling fine art and antiques. We offer onsite consultations to determine the best packing and crating options, and we provide onsite packing and soft-wrapping using the most up-to-date archival materials to ensure the safe and stable transport of your pieces.
We care about our environment. We donate our wood waste and scrap ethafoam to area recyclers, and use reusable and recycled wrapping and packing products whenever possible.