Art Work Fine Art Services is a trusted art logistics partner for fine art installation, whether it be uncrating and placing a heavy sculpture on a pedestal in a home or hanging an entire exhibition in a museum. Art Work FAS can install particularly large or heavy pieces requiring specialized rigging or cranes, as well as pieces in unique locations requiring scaffolding or lifts. Art Work specializes in comprehensive outdoor installations needing special mounts, earthquake-proofing, UV protection, and weatherproofing. In 2022, Art Work installed the influential Ribbon of Light series. This installation is indicative of our level of service to all collectors and artists seeking a partner for public art installation.
The Ribbon of Light Series — Sculptures of Remembrance
Ribbon of Light is a series of public art sculptures displayed as a feature of The AMP: AIDS Memorial Pathway — an art collective dedicated to the remembrance of and response to the HIV/AIDS epidemic. The series features three laminated, outdoor glass sculptures along a landscaped pathway in Cal Anderson Park in Seattle, Washington.
The sculptures, titled "Monolith," "Reverie" and "Lambda," are installed in the park environment with additional landscaping and stone elements on the perimeter. They present stacked luminescent glass, representing pieces of broken sky that have fallen to the ground, "allowing the illumination of our communal mourning and embodying the ephemeral, changing, and shifting nature of grief," according to The AMP. The sculptures feature messages etched into the layers of glass, and present unique shapes, representing different meanings. Visitors may use the space for reflection and contemplation, as did the poets impacted by the HIV/AIDS pandemic.
The artist, Horatio Hung-Yan Law, is known for artwork that tackles weighty subject matter with unique materials. Horatio Law was born in Hong Kong but currently resides in Portland, Oregon. The inspiration for Ribbon of Light stemmed from his identity as a queer U.S. immigrant from China. He believes that public art is a valuable canvas for socially engaging and community-driven artwork.
Installing the Ribbon of Light Sculptures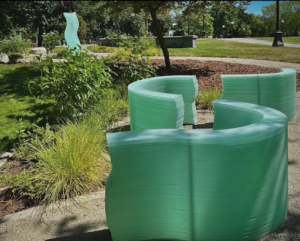 Art Work Fine Art Services installed the Ribbon of Light series in the summer of 2022 in Cal Anderson Park in Seattle, Washington. Because of the immense weightiness of the sculptures, paired with their size and fragility, the job required a specialized crane for installation. The task was completed in several stages by a crew of four art logistics specialists.
"Ribbon of Light" is my public art installation created for Seattle's The AMP: AIDS Memorial Pathway. Special thank you to Artwork Fas for their expert installation," Horatio Hung-Yan Law.
The success of the Ribbon of Light installation is owed to the dedicated and meticulous team members of Art Work FAS. The fine art installation experts at Art Work Fine Art Services know exactly how to meet the unique challenges of outdoor installations, whether simple or complex. 
Specialized Knowledge From Our Experts in Fine Art Installation
For nearly 30 years, Art Work Fine Art Services has served as the trusted logistics partner to some of America's most highly-regarded museums, galleries, collectors, and artists. We specialize in expert and custom solutions for domestic and international shipping, warehousing, and preservation of artwork. 
Our team is made up of passionate experts in many mediums, including design, painting, printmaking, carpentry, photography, and sculpture. Art Work FAS offers services in Portland and Seattle, in addition to California's Bay Area and Silicon Valley, Los Angeles, New York City, and across the Rocky Mountains.  
To request an estimate or find out more about the fine art installation services Art Work Fine Art Services offers, contact us.