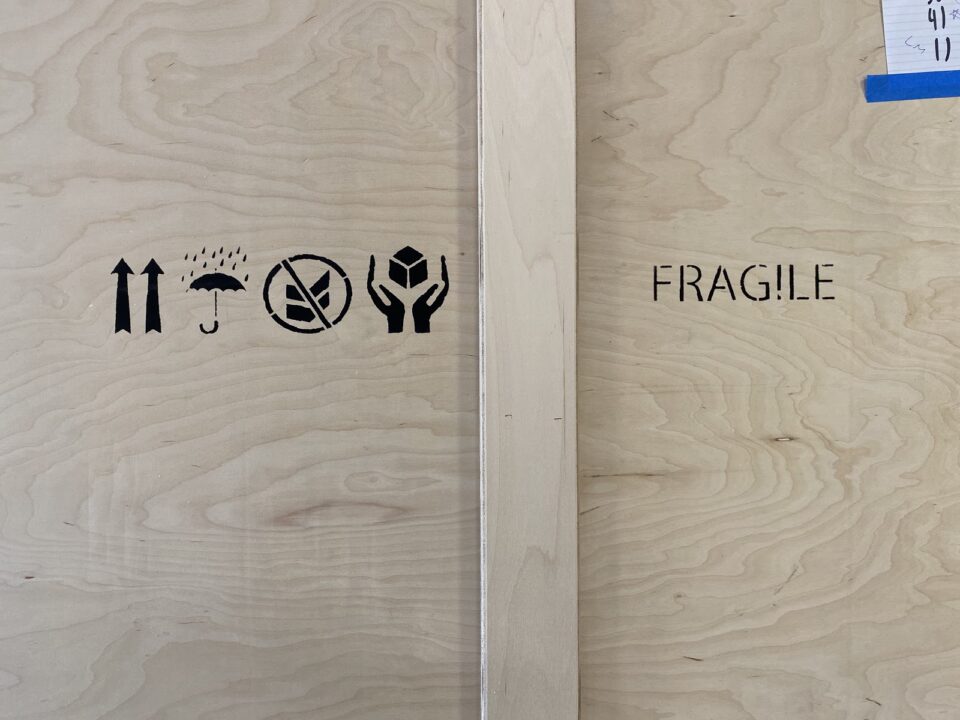 A great many details go into packaging and shipping artwork. With decisions to be made about the right materials, protection, and hardware for packaging, it can be stressful to navigate which route is right for your piece. 
Our custom crating service allows for stress-free transportation, ensuring that your items are delivered in their intended condition. Below, you will find three reasons why custom crating is the best choice for your artwork. 
Custom Built Packaging
Every piece of artwork has unique or specific requirements for safe shipping. When it comes to transportation, the right precautions need to be taken. We take this process seriously to ensure that no damage occurs during transit. We build our high-quality plywood crates to precisely fit your objects and construct interiors that are padded and cushioned to carefully and securely hold your items while they're being shipped.  We also use archival materials where necessary, and provide a range of custom options to meet even the most rigorous museum standards.
Built to Move
We design our crates with safe shipping in mind, and we make that clear to anyone who needs to move them. Our crates are stenciled with instructions for handling and orientation and are clearly labeled.  These details guide those who may come in contact with your valuable item during the shipping process.  Equally importantly, our crates have physical features that enable them to be handled safely.  Art Work FAS crates have strong, integrated handles for safe and easy lifting and are elevated off the ground on skids that keep them away from water and let lifting equipment slide underneath for easy access.  
Specialized Knowledge from Our Experts 
Our team members aim to cater to your specific shipping and handling requirements. We have collectively crated and safely transported thousands of unique and precious pieces of art.  Preservation of your items is our top priority – whether you are shipping a small piece for a domestic move or constructing an exhibition for international travel, our team will be there every step of the way and treat each item with care and respect. 
Our customizable crating process allows you to feel confident about the steps you are taking when shipping fine art. We look forward to providing you with a personalized shipping experience. 
For nearly 30 years, Art Work Fine Art Services has served as the trusted logistics partner to some of America's most highly-regarded museums, galleries, collectors, and artists. We specialize in expert and custom solutions for domestic and international shipping, warehousing, and preservation of artwork. 
Our team is made up of passionate experts in many mediums, including design, painting, printmaking, carpentry, photography, and sculpture. Art Work FAS offers services in Portland and Seattle, in addition to California's Bay Area and Silicon Valley, Los Angeles, New York City, and across the Rocky Mountains.  
To request an estimate or find out more about the services Art Work Fine Art Services offers, contact us.