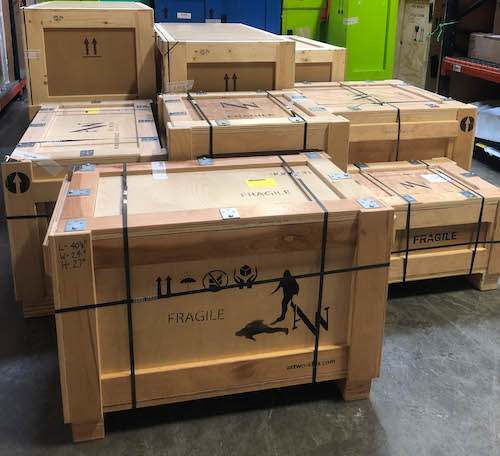 With over three decades of caring for fine art pieces during transport and storage, our team of leading experts knows keeping artwork safe relies on the quality of the crating used. No matter the size, shape, or type of artwork, bespoke crating solutions are always the highest quality option. In order to ensure its safety, each piece of art must be fitted for custom crating. At Art Work Fine Art Services, we offer custom, hand-built crating solutions tailored for protection and endurance during fine art shipping.
Custom-Designed Crating Options
Art Work Fine Art Solutions is the premier solution for custom crating options. Whether clients are shipping artwork across town or across the world, artwork requires high-quality crating handcrafted to perfectly accommodate each individual piece. Art Work Fine Art Services provides crating options to suit any piece of art. Our team of art professionals is highly educated in each piece's unique requirements for fine art storage and transportation. 
Standard One-Way Crates
Clients seeking an economical solution to move artwork may consider one-way crates made of durable plywood. These crates seal artwork inside so that it stays secure and even the most delicate pieces are protected in ground or air travel. One-way crates are an affordable single use option for transport.
Standard Two – Way Crates
These crates, designed for repeated use, are ideal for national shipping needs. Made of sturdy plywood and reinforced closures and corners, standard crates can withstand the turbulence of transportation, keeping the artwork inside safe to travel to its final destination without concern.
Each crate our team creates is padded with materials to reduce movement and support fragile pieces. Two-way crates can be used multiple times. They are also fitted with handles and skids so that assets can be moved easily and without damage.
Museum and International Crates
The shipping industry has strict rules and regulations about international shipping crates. The crate must be uncompromisable, able to withstand shipping and remain intact for the length of the journey. The wood that makes up these crates must meet compliance standards that keep crates free from bug, pest, and insect infestation. At Art Work Fine Art Services, we can provide comprehensive solutions for international fine art shipping.
Travel Frames
Appropriate for art shuttle transport and storage, travel frames are an excellent choice when artwork has an especially fragile or delicate surface. They can also be an economical solution for very large artwork, since they're usually less expensive than an enclosed crate. Sometimes, a piece of art will simply be so challenging to transport that it needs a travel frame to be moved safely.
All of our travel frames can be designed to be used on their own or packed into enclosed crates. We are able to secure the work inside the crate without touching the sides or front of the piece, reducing the possibility of damage.
Specific Logistics Considerations for Fine Art Shipping
The preservation of a client's pieces is always our top priority. We cater to the specific fine art shipping and handling requirements of each project, whether it be a single painting making a short move, or a multi-piece exhibition slated for international travel.
Our crates, made of high quality plywood, can be clearly stenciled with handling and orientation instructions to ensure that all necessary information is communicated across teams during the journey.
Specialized Knowledge From Our Experts
For nearly 30 years, Art Work Fine Art Services has served as the trusted logistics partner to some of America's most highly-regarded museums, galleries, collectors, and artists. We specialize in expert and custom solutions for domestic and international shipping, warehousing, and preservation of artwork. 
Our team is made up of passionate experts in many mediums, including design, painting, printmaking, carpentry, photography, and sculpture. Art Work FAS offers services in Portland and Seattle, in addition to California's Bay Area and Silicon Valley, Los Angeles, New York City, and across the Rocky Mountains.  
To request an estimate or find out more about our services, contact us.