Don't limit your creativity because you are unsure of how to transport or install your artwork. There are plenty of installation options for your biggest and heaviest pieces. The experts at Art Work Fine Art Services have the experience and tools to install whatever your desire.
Inspect Your Art Installation Space
Ensure that your installation space is prepared for installation. Heavy hanging artwork should be installed on reliable walls, away from excessive sunlight and heat. If installing artwork in a residential home, it may be best to install hardware into a stud.
For sculptures, the ground should be level. Installing sculptures outside might require time to prepare the ground and pour a concrete base.

Rely on Specialized Equipment, Rigging, and Cranes
Because art pieces are unique in shape, size, and material, every transportation and installation process is different. Art installation experts can create a custom plan with equipment to move the heaviest and largest of artworks.
Use of crane or gantry rigging services can also make art installation simpler for even the heaviest pieces and collections.  When your project requires heavy lifting or long reach, cranes allow precise installation while keeping your work secure.
Have the Right, Custom Hardware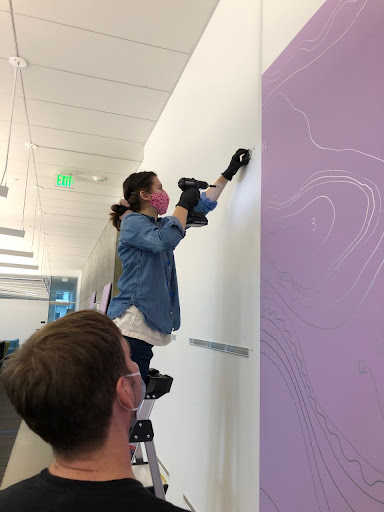 The types of artwork and the installation spaces have a great deal to do with the tools and equipment you will need. Paintings may be able to hang on several studs, but more specialized hanging artwork will require custom security hardware, and fabrics may need to be mounted in place using a system of supports. Outdoor sculptures facing different ground conditions will need different bases.  Three-dimensional work requiring earthquake or seismic stability should be coordinated by a qualified engineer.
For hanging artwork, the material of the wall affects the installation process. Brick, concrete or lath and plaster walls will need more specialized tools and hardware than plaster walls.

Don't Move Heavy Pieces Yourself

Moving heavy pieces on your own, especially upstairs or over uneven terrain, is dangerous for both the movers and the artwork. Rely on expert art handlers with the right tools to move artwork safely and effectively.
Do you have a large or challenging art installation project? Use an art logistics company like Art Work FAS. Request a quote with us today.
Specialized Knowledge From Our Experts
For nearly 30 years, Art Work Fine Art Services has served as the trusted logistics partner to some of America's most highly-regarded museums, galleries, collectors, and artists. We specialize in expert and custom solutions for domestic and international shipping, warehousing, and preservation of artwork. 
Our team is made up of passionate experts in many mediums, including design, painting, printmaking, carpentry, photography, and sculpture. Art Work FAS offers services in Portland and Seattle, in addition to California's Bay Area and Silicon Valley, Los Angeles, New York City, and across the Rocky Mountains.  
To request an estimate or find out more about art installation Art Work Fine Art Services offers, contact us.