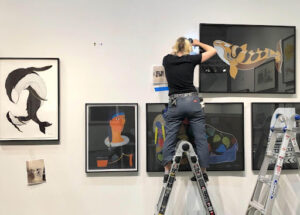 As a professional in the art industry, we know your collection is valuable to you – sentimentally, aesthetically, and monetarily. It's important to us, too. Our team is made up of passionate artists and experts in many mediums, including design, painting, printmaking, carpentry, photography, and art sculpting. We understand the work that goes into creating art, and the need to protect it, store it and install it properly.
Since 1992, we have reliably crated, stored, transported, and cared for thousands of pieces of artwork, ensuring their safety on the journey, and providing reliable art installation in their final home.
Comprehensive Art Installation Services for any Collection
Our team can tackle the logistics of any fine art installation project – from art storage and management of your collection to uncrating, displaying and meticulously securing an array of pieces in an installation.
We are familiar with the multitude of challenges that come with art installations, and how to overcome them.
Difficult Access Points
Sometimes, pieces are too large to fit through a standard doorway. Or they are too heavy to be transported easily. Or the area where they are to be displayed is awkward to reach or located in a uniquely shaped space like a stairwell. In these instances, our team will map out the logistics for entry into the exhibit area and use specialty equipment to safely move the art into place. We can coordinate rigging, cranes, scaffolding, lifts, and any other tools necessary to safely set up the installation.
Individual Security Concerns
Each piece in a collection is unique, and its needs vary. Often, individual pieces need special mounting hardware, and there are environmental considerations that require things like earthquake-proofing, UV protection, or waterproofing. Because our team is made of up artists – who also have decades of experience as art handling professionals – we are well equipped to address each of these scenarios.
A Trusted Partner to Collectors, Gallerists, and Curators
Whether you're selecting pieces for an exhibition, pursuing new art for acquisition, or arranging transport or storage for a collection, you have many things to focus on. Worrying about the safety or security of the artwork in your care while it's being installed doesn't have to be one of them.
Choose a partner who knows as much about art as you do.
At Art Work Fine Art Services, we handle all aspects of installation, including transportation, location advice and consultation. From the simple to the complex, whether it's hanging a single piece or an entire fine art installation, we can help bring together your vision and ensure that each piece shines.
We offer services in Portland and Seattle, in addition to California's Bay Area and Silicon Valley, Los Angeles, New York City, and across the Rocky Mountains. To request an estimate or to discuss your needs, contact us.