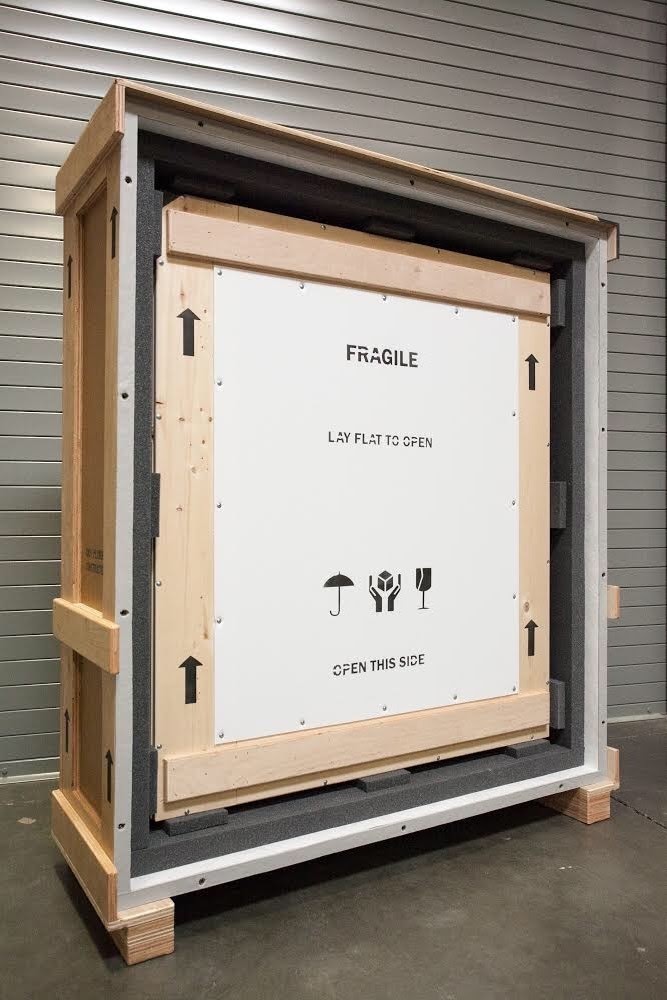 When it comes to transporting fine art, every detail matters. This is especially so when choosing the right shipping crate for you shipping needs. Crates are designed for transporting and storing art, and each crate has its place. The size, media, and quantities of the fine art that you are shipping or storing are all factors in deciding what kind of crating is best for your situation. Contact our company by clicking here.
Open Crates
Open crates – such as U-frames, slat crates, or pallets – are a good choice for the local movement of fine art that needs protection beyond softpacking (cardboard, foam lining, glasskin taping, and/or archival packaging material). These types of crates can also be utilized for longer trips made by experienced fine art handlers on properly equipped trucks.
Enclosed Crates 
Enclosed crates are necessary if you are shipping your fine art via air, ocean, or road freight – any time it will not be cared for by fine art professionals. And while experienced art handlers like Art Work FAS treat all fine art carefully, if your piece is particularly delicate or sensitive, an enclosed crate is the safest option.
One-Way Crates 
Despite the name, these strong, economically priced crates can actually be used more than once. Our team typically recommends a one-way crate for anyone looking to safely ship their art on a one-way trip. 
Standard Crates
Standard, mid-grade crates are made of stronger plywood materials. They are appropriate for heavier and larger items. A great benefit of standard crates is that they can be reused multiple times and maintain reliability with each use. We recommend standard crates for transporting art on two-way trips.
Museum Crates
With artwork that is part of a touring exhibition, of extremely high value, or just very sensitive, we recommend a museum crate with reinforced construction. This crate is similar in construction to a standard crate, but the added security of reinforced construction with an exterior sealant and bolt and plate closure system helps this crate withstand years of wear and tear. 
Don't Risk it with DIY
Improper crating can lead to the damage of artwork. Common errors we see when people try to ship and transport artwork without professional help include:
Surface damage from pressure or abrasion, typically seen from too many pieces of art packed into one crate or not taking care to arrange the art properly. Some pieces require

that nothing comes in contact with their surface, even while they're on the move. 

Damage from having traveled in

the wrong orientation – yes, this matters!

Crates that are built without skids (feet) or handles, making them hard to move and easy to drop.

Damage from long-term storage in wrapping that isn't archival. Art can stay in storage crates for years, so when we see household materials used by people in an effort to preserve their artwork, there can be staining, discoloring, and bonding with art – the exact opposite of preserving for safekeeping. 
At Art Work FAS, all of our crate interiors are customized for the artwork that they contain. The most common interior setup for flatwork (2-D pieces), is a series of 2 inch thick, 3.5 inch wide foam bumpers around the interior of the crate. The packed artwork is then placed inside these bumpers. Common interior setups for 3-D pieces include packing into smaller inner boxes, packing into cavities cut out of sheets of soft foam, and brace packing. We also prepare crate interiors with full esterfoam lining, rigid foam insulation, and Tyvek or Marvelseal inner vapor barriers.
Let our team of vetted professionals assist with your art needs to avoid common mishaps such as surface damage, crate damage, or long-term damage. No matter the shape, size, and dimensions of your artwork, we know how to securely crate and pack it. 
For nearly 30 years, Art Work Fine Art Services has served as the trusted logistics partner to some of America's most highly-regarded museums, galleries, collectors, and artists. We specialize in expert and custom solutions for domestic and international shipping, warehousing, and preservation of artwork. 
Our team is made up of passionate experts in many mediums, including design, painting, printmaking, carpentry, photography, and sculpture. Art Work FAS offers services in Portland and Seattle, in addition to California's Bay Area and Silicon Valley, Los Angeles, New York City, and across the Rocky Mountains.  
To request an estimate or find out more about the services Art Work Fine Art Services offers, contact us.