The city of Seattle is known as a cultural center for innovation and creativity. Throughout this unique urban landscape, you will find public art pieces of all shapes and sizes. Currently, there are over 400 permanent public artworks scattered throughout the city. With such a wide variety of artwork and concepts, Seattle's ingenuity and passion for public art is clear. 
Whether you are looking to explore the city through some creative installations or joining in on our public art scavenger hunt, we've gathered some pieces around the city of Seattle for you to explore. 
"Waiting For The Interurban" – Richard Beyer
Installed in the 1970s by sculptor Richard Beyer, "Waiting For The Interurban" has become one of Seattle's most popular public art pieces. The work pays homage to the light rail Interurban line that used to connect downtown Seattle to its other neighborhoods. Created from cast aluminum, it has become an interactive piece with many people decorating it with costumes and their own art pieces. 
Head on down to the Fremont neighborhood of Seattle just east of the Fremont Bridge to discover this unique public art piece.
"Giant Red Twin Popsicle" – Catherine Mayer
If you wander through the Belltown neighborhood of downtown Seattle, you may stumble into a giant, tasty, treat! 
Created by Catherine Mayer in 2016, this 17-foot-tall sculpture of a frozen twin pop on a stick is meant to inspire positive reactions. You won't want to miss out on seeing this bold piece.
Regrade Park Dog Mural – Cern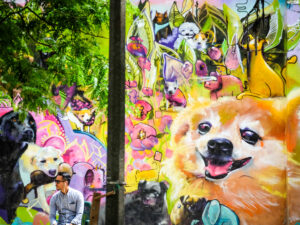 In August of 2016, New York based artist Cern worked with the Downtown Seattle Association and Seattle Parks and Recreation to bring some life to Regrade Park. The team created a colorful canine-themed mural, which has become a big hit amongst visitors to the park.  
If you have a furry friend, this is a great opportunity to get a picture of them with this public art piece for our public art scavenger hunt!
"Hammering Man" – Jonathan Borofsky
Situated outside the Seattle Art Museum is "Hammering Man," a 48 feet tall statue created by Jonathan Borofsky. The kinetic art piece slowly moves his hammer up and down, laboring for 20 hours a day. 
The piece was created to honor the working class men and women of the world. If you happen to walk past the Seattle Art Museum, you certainly won't miss this piece. 
Interested in discovering more public art around the city of Seattle? Our public art scavenger hunt is a great way to discover and connect with some fantastic pieces. Here is how you can join in on the fun and win two tickets to three museums across the Emerald City. 
Specialized Knowledge From Our Experts
For nearly 30 years, Art Work Fine Art Services has served as the trusted logistics partner to some of America's most highly-regarded museums, galleries, collectors, and artists. We specialize in expert and custom solutions for domestic and international shipping, warehousing, and preservation of artwork. 
Our team is made up of passionate experts in many mediums, including design, painting, printmaking, carpentry, photography, and sculpture. Art Work FAS offers services in Portland and Seattle, in addition to California's Bay Area and Silicon Valley, Los Angeles, New York City, and across the Rocky Mountains.  
To request an estimate or find out more about the services Art Work Fine Art Services offers, contact us.