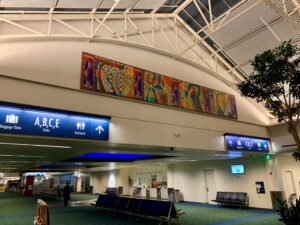 This year, our team has felt a profound connection to public art and has noticed the impact it has had on our cities, especially in the Pacific Northwest. 
When the pandemic first started, businesses put boards up over their windows in preparation for the extended closure. As a response, artists in many different cities painted murals to add vibrancy to desolate cityscapes. From there, we've seen public art continue to flourish with most pieces living outdoors, a safe space for people to discover and connect with art. 
With public art on our minds, we decided to conduct a survey to discover what others think about this art form and how they see it impacting their communities. Our participants included fine art collectors, curators, artists, and those passionate about art in the Pacific Northwest. Here's what they had to say. 
Connection to Public Art
The first handful of questions in our survey allowed us to get a sense of how our sample size feels about this art form and where they feel most connected to public art pieces. Overall, those who participated felt that public art helps support artists, inspires creativity, and creates neighborhood identity. They felt most connected to pieces located in parks and plazas and wanted to see more sculptures located throughout their cities. 
The Role of Public Art
Our main goal was to uncover the impact that public art has on communities. Our final half of the survey helped us get a sense of how people view public art and its role in cities. Most strongly agreed that public art can help drive traffic to areas of town that may need a little more support. In addition, a high percentage agreed that public art can be a powerful tool for establishing more community-focused cities. 
From our survey, we found that people in the art community see the importance of public art when it comes to rebuilding cities and communities after the pandemic. To discover more about our findings, please click here. 
Are you interested in exploring public art? We are hosting a public art scavenger hunt around the city of Seattle during the month of September. The prize includes two tickets to three museums around the Emerald City. 
Specialized Knowledge From Our Experts
For nearly 30 years, Art Work Fine Art Services has served as the trusted logistics partner to some of America's most highly-regarded museums, galleries, collectors, and artists. We specialize in expert and custom solutions for domestic and international shipping, warehousing, and preservation of artwork. 
Our team is made up of passionate experts in many mediums, including design, painting, printmaking, carpentry, photography, and sculpture. Art Work FAS offers services in Portland and Seattle, in addition to California's Bay Area and Silicon Valley, Los Angeles, New York City, and across the Rocky Mountains.  
To request an estimate or find out more about the services Art Work Fine Art Services offers, contact us.