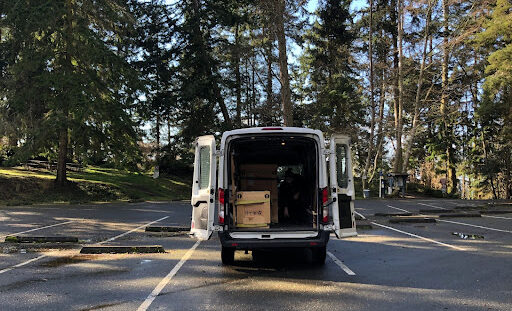 The Whidbey Camano Islands are home to a lively art scene, populated by cinemas, theaters, galleries, and museums. Local artistry in every medium lives at these locations, presenting both fine art and purchasable artwork like postcards, jewelry, and prints.
Our Favorite Galleries to Visit on the Whidbey-Camano Islands
For both high-end fine art and a supply of easily affordable art, Garry Oak Gallery is a perfect first stop. This gallery is a co-op featuring more than twenty-five local and established artists. 
Langley is home to the Rob Schouten Gallery and Sculpture Garden, which showcases over forty artists working in painting, sculpting, glass, jewelry, ceramics, woodworking, printmaking, and fiber arts.
Langley is also the home of the Artworks Gallery, with a diverse array of creative work including paintings, drawings, encaustics, mixed media, wood artistry, jewelry, and photography. Those wanting to see fine pottery can visit the Whidby Clay Center in Freeland, where they can participate in pottery classes and witness the gallery created by local artists.
Photo Courtesy: Rob Schouten Gallery and Sculpture Garden
Our Favorite Museums to Visit on the Whidy-Camamo Islands
Intrinsic to the Island's unique history is the County Island Historical Museum, which traces the island's change from prehistory to the early 20th century. An entire floor is devoted to the Native Americans who first settled on the island. Exhibits include the remains of the Columbian mammoth and an exhibit on Native Peoples, who have lived on the islands for over 10,000 years, and their artwork. The history of early settlement and pioneer families are documented through vintage maps, tools, and clothing. Modern relics include a look at industrialism and communication, such as a display of the island's first telephone switchboard, and the island's first car.
The Pacific Northwest Naval Air Museum aims to exhibit artifacts surrounding the variety of aircrafts flown from NAS Whidbey Island. Whidbey Island had a unique Navy-civilian community relationship. The museum's centerpiece is a restored PBY Catalina, the legendary flying boat that saw service in World War II. Other exhibits include historic military artifacts and two flight simulators. 
Photo Courtesy:  Island History Historical Museum

Fine Art Transportation and Storage
For both fine art and historical artifacts, Art Work Fine Art Services supports local artists and collectors in the Whidbey-Camano and Puget Sound area. FAS supports crating, transportation, and storage. Take advantage of the Art Work shuttle service to get your artwork up and down the Pacific Northwest Coast.
Specialized Knowledge From Our Experts
For nearly 30 years, Art Work Fine Art Services has served as the trusted logistics partner to some of America's most highly-regarded museums, galleries, collectors, and artists. We specialize in expert and custom solutions for domestic and international shipping, warehousing, and preservation of artwork. 
Our team is made up of passionate experts in many mediums, including design, painting, printmaking, carpentry, photography, and sculpture. Art Work FAS offers services in Portland and Seattle, in addition to California's Bay Area and Silicon Valley, Los Angeles, New York City, and across the Rocky Mountains.  
To request an estimate or find out more about the services Art Work Fine Art Services offers, contact us.