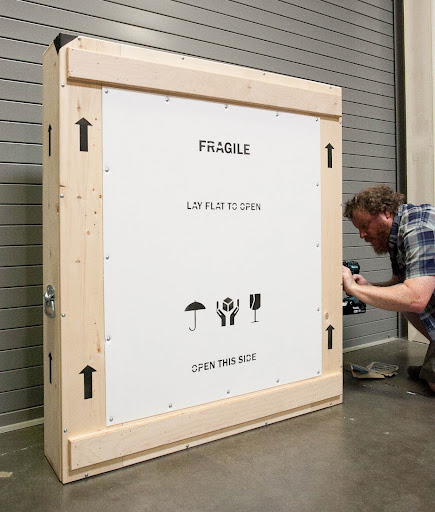 Fall is giving way to winter. For many art aficionados and collectors, that means making room for new art by replacing and storing older ones. Properly storing artwork so it is not damaged while it awaits its new home or destination is a must.
Art Work FAS is committed to securely storing art so that it can be loved and viewed again and again. When it comes to traditionally framed artwork at your museum, art gallery, or residence, we recommend hiring a team of professionals to help you place art pieces in storage.
Below are questions you should consider before trying to store traditionally framed artwork on your own.
Do You Know How to Handle Fine Art?
Storing traditionally framed artwork is an involved process that starts with knowing how to handle fine art. Anyone moving a piece of art should know the risks. Even a short trip to an on-site storage area like a garage or storage facility can be a feat. Framed pieces require extra attention as they are moved because they could be prone to tearing or breaking. You need "white glove" treatment while handling, and we say this literally and figuratively! If handled improperly, pieces could be smudged or left with fingerprints – ruining the quality of the piece. 
Can You Securely Pack Art for Storage?
After assessing your or your team's skills in handling fine art, you should ask yourself if you have the materials and knowledge to store framed artwork. You must store framed art pieces vertically to avoid damage to the canvas and use materials to keep the frame secure. If you can't accomplish this on your own, you should contact a professional and experienced team like Art Work FAS. We can crate and package framed artwork for storage so it remains upright and separated. 
Related Article: How We Effectively Store Your Fine Art During the Fall and Winter Months
Are Your Storage Conditions Safe?
Once your artwork is packed and secure, you should consider whether the conditions of your storage location are safe. A storage locker or backroom may seem like fine, low-cost options. However, you should also consider the temperature, space, and risk of your storage area. Damp conditions are unacceptable for framed artwork, as they could produce mold or damage the piece and frame. Depending on the medium, your framed work may need a specific environment, and our climate-controlled storage solutions protect the art piece. If you're not prepared to store artwork as required, consider a professional team to properly store your traditionally framed artwork.
Specialized Knowledge From Our Experts
For nearly 30 years, Art Work Fine Art Services has served as the trusted logistics partner to some of America's most highly-regarded museums, galleries, collectors, and artists. We specialize in expert and custom solutions for domestic and international shipping, warehousing, and preservation of artwork. 
Our team is made up of passionate experts in many mediums, including design, painting, printmaking, carpentry, photography, and sculpture. Art Work FAS offers services in Portland and Seattle, in addition to California's Bay Area and Silicon Valley, Los Angeles, New York City, and across the Rocky Mountains.  
To request an estimate or find out more about the services Art Work Fine Art Services offers, contact us.