In March 2022, beloved Pacific Northwest artist Lee Kelly passed away. Kelly was known best for his expressive abstract sculpture work. As one of the most revered artists in the Pacific Northwest, Lee's largest fine art works can be found all throughout Oregon and surrounding areas. 
Hailing from McCalla, Idaho, Kelly graduated from the Pacific Northwest College of Art in 1959. As he developed his craft, he landed several prestigious displays throughout the country including at the Portland Museum of Art, Stanford University, New Orleans Art Museum, and Seattle Art Museum. Many of his modern pieces have become the central focus of several schools and universities including Reed College, Oregon State University, Catlin Gabel School, and Oregon Health and Science University.
Since the early 1980s, much of Kelly's fine art has been displayed at museums and galleries across the United States. He is most known for his long-term residency at the Elizabeth Leach Gallery. The gallery shared this heartbroken comment at the announcement of death.
"[Kelly] graced us with his presence for 89 years," Elizabeth Leach gallery tweeted. "His significant influence spanning over six decades as a painter and sculptor is widely felt in the Pacific Northwest and beyond."
As an artist, Kelly left a lasting impression on the art community with both his sculptures and paintings. 
"Observatory at Jaipur"
Elizabeth Leach Gallery, 2015
Alongside his monumental sculptures, Kelly was also well-known for his painting and small wall sculptures. He received many rave reviews fo​​r these pieces.
"Many of Lee Kelly's wall sculptures stand away slightly from the wall where they can also seem like immense brushstrokes. But there are 'shadow' versions of them, too the spaces just behind them. We can't, of course, enter that space–the works remain, in this sense, two-dimensional. Yet it is there, and its contradictory 'presence' reminds us that the work is because of what it isn't."  – Randal Davis, Leland Iron Works Press
"An intersection of Matter"
Portland Art Museum, 2011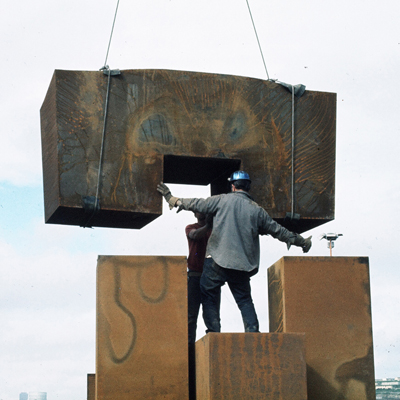 One of Kelly's most remembered works was his lifesize sculpture, pictured to the right. Here's what Bruce Guenther, Curator of Modern and Contemporary Art. had to say about Kelly, his success, and his reputation from pieces like this in the art community.
"As one of the premier sculptors of the Pacific Northwest, Lee Kelly made a unique place for himself in the region. Highly sought after for public and private commissions, he managed to survive and prosper over the years solely from this art." –
"Memory 99"
Portland North Park Block, 2012
Memory 99 is one of Kelly's most loved architecture sculptures and resides at his home college. The piece pictured here was created out of Cor-Ten steel and sits 23 feet wide, 11 feet tall, and over 6 feet in depth. This sculpture was the first step in transforming the Pacific Northwest College of Art's park, and has become a campus favorite.
A Legacy of Fine Art
Frank Beach Memorial Fountain – Washington Park Portland
Leland #1, with artist Bonnie Bronson – 2309 SW 1st Ave Portland
Howard's Way – 635 SW 19th Ave Portland
Gate II – Olympic College, Bremerton, WA
Gate III, Wenatchee Valley Colleye, Wenatchee, WA
Untitled 1977 – University of Wasington, Seattle, WA
Specialized Knowledge From Our Experts
For nearly 30 years, Art Work Fine Art Services has served as the trusted logistics partner to some of America's most highly-regarded museums, galleries, collectors, and artists. We specialize in expert and custom solutions for domestic and international shipping, warehousing, and preservation of artwork. 
Our team is made up of passionate experts in many mediums, including design, painting, printmaking, carpentry, photography, and sculpture. Art Work FAS offers services in Portland and Seattle, in addition to California's Bay Area and Silicon Valley, Los Angeles, New York City, and across the Rocky Mountains.   
To request an estimate or find out more about the services Art Work Fine Art Services offers, contact us.