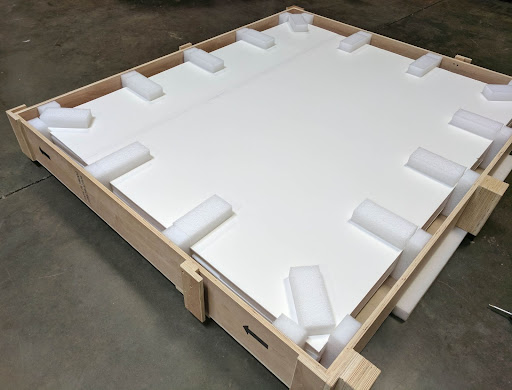 Transporting your fine art can be a worrisome process, and you're making the right decision by working with a professional art logistics company. Safety is one of the most critical aspects of fine art shipping, however, it isn't the only factor you should consider when moving art. Whether you're a curator of paintings for a facility or own your artwork, you should be sure that everything arrives undamaged.
Learn more about how to properly ship fine art.
Safety is Key for Paintings
First and foremost, safety is the biggest priority for fine art shipping – especially paintings. Don't let just any art shipping company "guarantee" a safe delivery for your pieces. Ensure they have your seal of approval by ensuring that they can handle the shipping process. Fine art shipping for paintings starts with secure packing and careful planning. Before your paintings even reach a truck's trailer bed they should be crated for travel. If you feel confident about the safety of your paintings, you're good to move on to other fine art shipping factors. 
Professionalism for Fine Art Shipping
It's important to ship your art with the utmost care. That's why hiring an art logistics company to handle all aspects of the fine art shipping process is a must. Trust and professionalism may not be physical components of shipping, but they are essential when it comes to valuable or fragile artwork. From the moment that the company takes your art to the moment, it arrives at its final destination, you should know that your pieces are safe. Trust the art transportation process with a team of professional art handlers, like the team at Art Work Fine Art Services.
Economical Choices for Fine Art Shipping
Your pieces are valuable and should be treated as such. However, moving a painting from one place to another shouldn't break the bank. Choosing an economical option is in your best interest. If you rely on the cheapest option to transport art, you may risk the safety of your pieces. At the same time, you don't want to overpay if you are transporting paintings often. Art Work Fine Art Services offers a shuttle service along the west coast for art transportation that is economical and useful. If your paintings require extra care, an exclusive shuttle service is also available.
Do you need help transporting your fine art paintings? Contact us for an estimate.
Specialized Knowledge From Our Experts
For nearly 30 years, Art Work Fine Art Services has served as the trusted logistics partner to some of America's most highly-regarded museums, galleries, collectors, and artists. We specialize in expert and custom solutions for domestic and international shipping, warehousing, and preservation of artwork. 
Our team is made up of passionate experts in many mediums, including design, painting, printmaking, carpentry, photography, and sculpture. Art Work FAS offers services in Portland and Seattle, in addition to California's Bay Area and Silicon Valley, Los Angeles, New York City, and across the Rocky Mountains.  
To request an estimate or find out more about the services Art Work Fine Art Services offers, contact us.