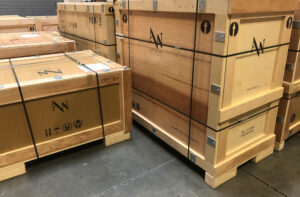 Even the smallest ding or chip on your invaluable artwork can affect the financial, aesthetic or sentimental value. When it comes to preparing to ship fine art, no precaution should be spared. Your investment in your transportation service is important. It is crucial to avoid bargain shopping and to pick a service with wrap-around offerings. Art Work Fine Art Services is dedicated to the safety and security of your artwork, from shipping to installation.
Custom Crating
Every piece of art is unique, and therefore, each piece should be treated differently. Paintings are usually rectangular, but can range from inches to feet in height. Installation pieces and sculptures can vary in shape and size as far as the human imagination can conceive. Each fine art piece must be evaluated by experts when getting the pieces ready for transportation. Custom creates and travel frames are often the only way to assure that each piece gets the specific protection it deserves.
White-Glove Treatment
In addition to ensuring your collections are properly packaged for transportation, Art Work FAS ensures that pieces are transported securely and with the utmost precautions. Those seeking an economic option transporting artwork across the West Coast and Pacific Northwest can utilize Art Work FAS's bi-weekly delivery shuttles. Shuttles are crafted to keep your artwork safe around bends and turns, and are climate controlled to protect pieces from the elements. Our services keep art transportation easy and predictable, without the stress.
Those seeking specialized attention for their larger collections might consider white-glove service. This service preserves a shuttle for your artwork alone. A team of drivers, solely dedicated to your collection, takes care of transport and installation. This service is preferable for destinations not on shuttle routes.
Installation
Installation does not have to be a nail-biting experience. Our teams are logistics experts in unloading and installing — even your heaviest pieces. We get artwork through doorways, up heights, and into tight spaces. Hiring professionals assures that artworks and venues remain undamaged.
Specialized Knowledge From Our Experts
For nearly 30 years, Art Work Fine Art Services has served as the trusted logistics partner to some of America's most highly-regarded museums, galleries, collectors, and artists. We specialize in expert and custom solutions for domestic and international shipping, warehousing, and preservation of artwork. 
Our team is made up of passionate experts in many mediums, including design, painting, printmaking, carpentry, photography, and sculpture. Art Work FAS offers services in Portland and Seattle, in addition to California's Bay Area and Silicon Valley, Los Angeles, New York City, and across the Rocky Mountains.  
To request an estimate or find out more about the services Art Work Fine Art Services offers, contact us.